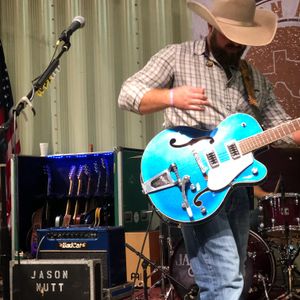 Bio
Jason Nutt and Highway 70 is a Texas Country band based out of the Lubbock, TX area, formed in 2008
Jason Nutt is a singer, songwriter born and raised in Floydada Texas. 
Growing up playing music and playing with various groups Jason was ready to do his own thing while attending Lubbock Christian University in Lubbock. Jason Nutt and Highway 70 formed in 2008 and toured heavily from 2008 to 2012 releasing two albums and having several songs on the Texas radio regional charts. They shared the stage with the likes of Pat Green, Aaron Watson, Whiskey Myers, Cory Morrow, and a long list of others great bands. They all decided to a step back from 2013 to 2017 for various reasons. During this time Jason played a number of acoustic dates sharing the stage with Cooder Graw, William Clark Green, Josh Grider and Randall King. Front this the calls kept coming and they decided to make a come back in 2018. Immediately beginning work on a new album and touring moderately, they started picking up steam. In February of 2019 when the single 'Purple Banners' was picked up by Weaver Livestock to collaborate on a music video. Jason worked with Weaver Livestock as an ambassador for youth showing programs. This opportunity opened up many doors and they were able to play the Ohio State Fair, the National FFA Convention and a number of other really big exposure events. 'Not The Man I Used To Be' a full length album was released in December of 2019. With steam building behind them and a heavily booked schedule they started 2020 on a great note. After the world started shutting down in the spring of 2020, and shows started being cancelled things slowed almost to a creep for a while. As things started opening back up, dates started falling back into place. During the time off, doing various live stream shows and uploading videos to YouTube, Jason decided it was finally time to work on a project he had wanted to do for years. In the Spring of 2021 Jason started working on a Gospel type album. The album will feature old gospel hymns, a couple of covers, and some original music. Hoping to be released in late 2021. Plans for full another album are already in the works for 2022. 
Jason now resides on his family's farm and ranch outside of Floydada with his wife Whitley and 3 kids, Paislee, Stetson, and Jolee.
Jason and the guys can't wait to see you at a show!
Band Members:
Jason Nutt - Lead Vocals and Guitars
Clint Chapman - Lead Guitar
Cameron Jeffcoat - Lead Guitar
Brady Rasco - Fiddle, Mandolin, Resonator
Tyler Richardson - Drums
Matt Cross - Bass